We provide variety of products.
1. Dried bird's nest instant drink (Pandan flavor)
2. White bird's nest (Dry bird's nest which was cleaned)
3. Ready to eat bird's nest (Variety menu of fresh bird's nest)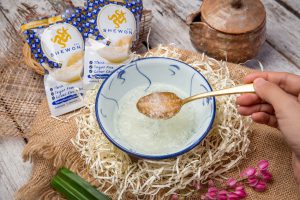 Dried bird's nest instant drink (Stevia&Pandan flavor)
Only quality bird's nest which was cleaned and cooked with natural ingredients is chosen. We use fresh pandan for natural flavor which contains many qualifications such as nourish heart and blood vessels. Moreover, we use steviol glycoside which is 200-300 times sweeter but lower cholesterol instead of sugar. Benefits of stevia is
– reduce inflammation and heal wounds faster
– reduce fat in blood
– reduce blood sugar
Dried Bird's Nest Instant Drink (Rock Sugar flavor)
Real bird's nest mix with good grade of rock sugar. So you can get little sweet and original smell of bird's nest
So it is suitable for diabetics and heart disease. And it is convenient to eat. Just tear the sachet of the drink, pour the nest in the cup, fill 80 ml of hot water, wait for 3 minutes. And it's ready.
White bird's nest
Grade of raw bird's nest can be separated as below
1. Bowl shape
– AAA (6-8 centimeters wide, and thick)
– AA (5-6 centimeters wide)
2. Corner shape (after a corner shape was cleaned. It will be called
"Squid shape "
3. Incomplete shape (after this shape was cleaned. It will be called
"Cake shape "
After that we thoroughly clean the nest by human. Dry it and pack it in a
gift set box. We have two sizes; Big of which size is 50 grams and small of which size is 25 grams. Or it can be packed by weight if customers want.
Before cooking, you must soak white bird's nest in water about 1-2 hours.
– Real bird's nest 100%
– Thoroughly cleaning by human
– Without any bleach or chemical
– Many types you can choose
Ready to eat bird's nest
We use fresh bird's nest for cooking by secret recipe. There are many delicious and healthy menus such as original flavor (pandan and rock sugar), coconut juicy flavor, milky ginkgo flavor. Every menu is
– Made to customer order
– No preservatives
– Natural flavor